7 habits of highly effective business cards
They say people do business with people. And we agree.
But the people you meet need a way to remember you too – you're charm, charisma, personality and wit will make sure you're memorable as a person. Your business card will help them to recall the rest – your contact details, your company name and of course what you do! The humble business card is arguably your most valuable marketing tool. You need to make sure it's working as hard for you as you do for your business.
We've been designing business cards for over 10 years at Nettl of Stockport, so we know a thing or two about what makes an effective business cards. So (and I make no apologies for paraphrasing one of my favourite books here!) here are 7 habits that a highly effective business card will exhibit.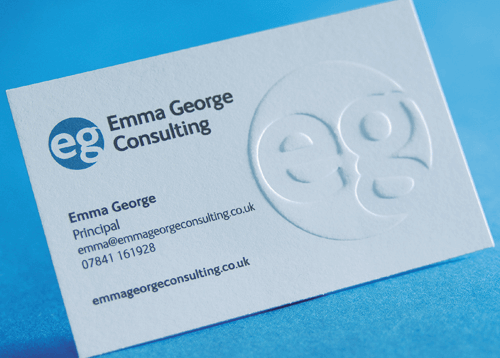 1. Make sure it says what you do!
Sounds obvious right? But it's overlooked more often than you might think! I've been to many conferences, exhibition and networking events where I've collected a pile of great looking business cards. You meet so many people at these events, it can be hard to remember everyone. A few days later I flick through them, and I find many telling me a person's name, email, address, position and a company name. But it doesn't tell me what their company does! Sure, I could go online, look them up and research what they do – but why make it harder for your prospects?
A short sentence stating "Industrial Air Conditioning Installers", "Family Lawyer" or "Wedding Photographer" can trigger the memory of the conversation you had, and ensure the business card is put into the "keep" pile.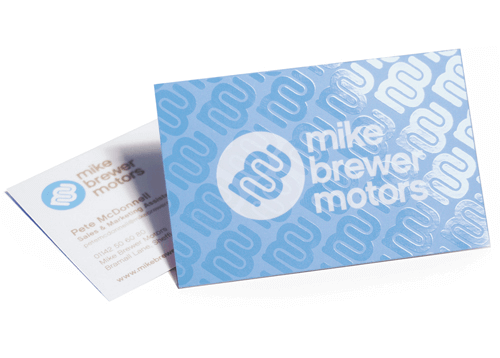 2. Use both sides
This small 85mm x 55mm piece of card is not the largest of spaces to put your best side forward. So you need to be clever about how you use the space. Why only use one side? You've paid for both sides, use them! Put all your contact details on one side – this makes it easy for people to simply take a photo and send to someone else if the need arises. On the reverse, put your logo, your tag line, a photo of you or your business, or anything you want – because anything is better than a blank white card. if you need inspiration for side 2, give us a shout, w're full of good and cray ideas.
But doesn't double sided cost more? No! Most Business cards from Nettl of Stockport cost the same whether you opt for single sided or double sided.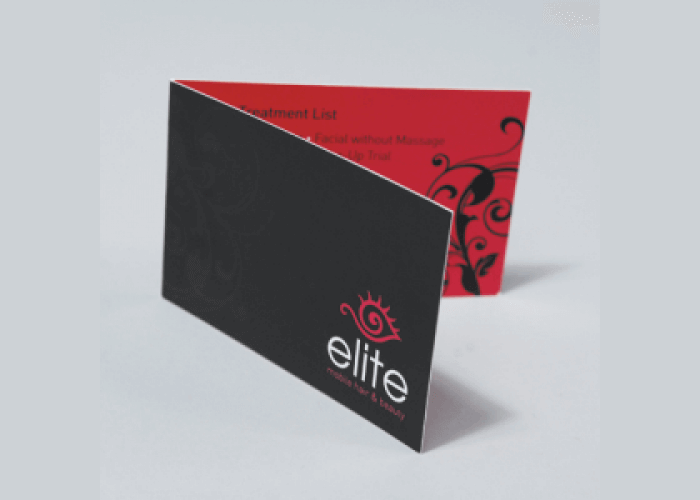 3. Don't cram. Let your business card breathe.
It's a common mistake made by business card virgins – they think of their business card as an advert, or a brochure, and try to cram into it as much as possible. But to do so completely misses the purpose of a business card. It's supposed to provide your contact details to prospective clients and associates, remind them of who you are and what you do, and give them an easy way to get in touch with you.
If you need a brochure, print a brochure – don't try to dual purpose your business card. If you try to cram too much on a card, then it's going to be hard to read and less likely to be used. Less is more, and as long as you've covered the main details, then leave room on the design to let the contents breathe and be easily accessible.
It's always a good idea to have your business card professionally designed. We design business cards day in and day out, and we know what works best and what the pitfalls are to avoid. Having your business card professionally designed is not expensive, but it can have a positive effect on the number of leads you generate.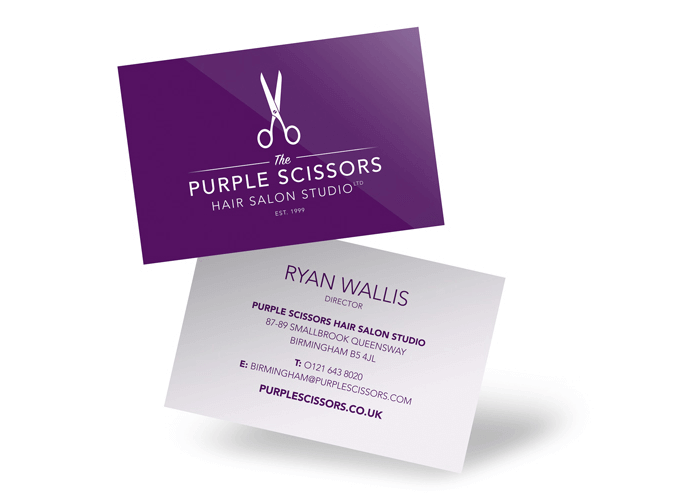 4. Be true to your brand – be consistent
Every piece of marketing you do is a touch-point with your clients and prospective customers. Your brochure, your adverts, your website, your e-mail footer, your shop front and of course your business card. Effective marketing recognises that it's the sum of the parts are greater than the whole. Each touch-point complements the others and reinforces your brand. An a consistent brand in-stills confidence, and demonstrates a commitment that you are making to your customers – that they can get to know you and wont get any unwanted surprises.
A disjointed brand on the other hand makes your business look hap-hazard and sends out mixed messages. If your using different fonts, colours, styles and logos in different places, then each piece of marketing is competing with the others to get your prospects' attention. Don't you have enough competition from your competitors already?
So when it comes to getting a business card printed, avoid ready-made templates – someone else will already be using them, and they wont match the rest of your brand. Instead, have a graphic designer build you a corporate brand, complete with a Brand Manual with rules on how to use your logo and marketing assets. Your business will thank you for it.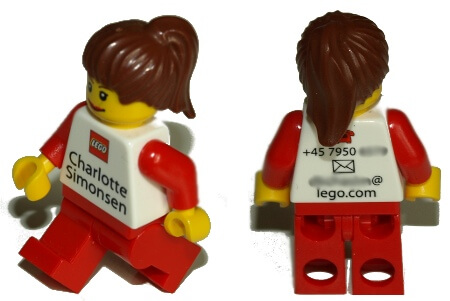 5. Your business card is a reflection of you and your business
Your business card is a reflection of your business. That's why you shouldn't go for the cheapest ones you can find – because that inevitably means they will be the lowest quality. The price difference between the cheapest business cards and a decent quality business card may only be a tenner or so. But the real cost difference is much higher – just think of all the customers who don't call you because your business card doesn't exude confidence in the same way as your competitors cards.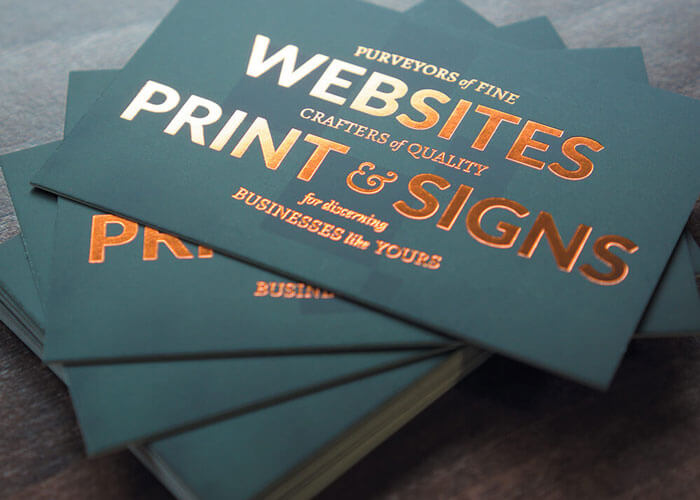 6. Effective business cards stand out from the crowd
There are lots of ways you can make your business card stand out from the crowd. Here are some ideas to think about:
Shape your business cards to match your business. A shaped business card will get noticed, even before the recipient has had a chance to read what's on it. And it'll make your business card eminently memorable too.
Shiny bits. Who doesn't love a bit of bling? everyone is attracted to something shiny. Our Startmarque finish incorporates gloss UV highlights that make a business card highly attention grabbing while maintaining elegance and beauty. Our Starmarque business cards are amongst the most popular finishes we do – and with prices starting around the £60 mark they are very cost effective too.
Feel the luxury. For the ultimate in luxury, take a look at our soft touch laminated cards. You really need to feel these cards yourself to truly appreciate how nice the finish is – it's like touching velvet! Alternatively our 600gsm cards are the thickest cards we do, and definitely feel the part.
Foil and emboss. At the top end of the range are our foiled or embossed cards. A silver or gold finish, or a textured emboss can bring your cards to life in a way that says – "hey, I'm serious about my business, and yours too".
Samples of all our business card finishes are available – get in touch for a sample pack.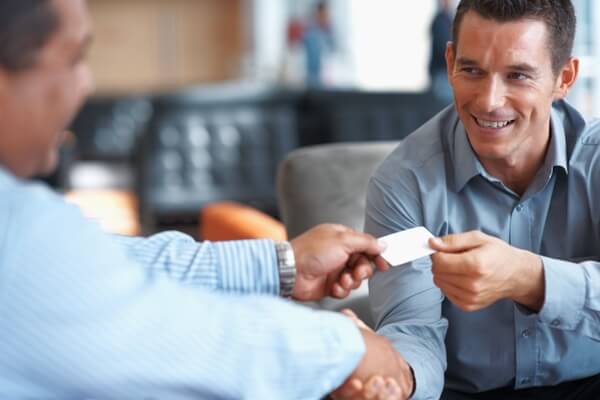 7. A good business card will be with you just when you need it
You never know when you're going to meet a prospective customer. And that's why you should never be without a set of business cards in easy reach. Keep some in a pocket of each of your suit jackets, blazers, coats. Keep a few in your wallet. Leave some in your glove compartment. Make sure you have some in the front pocket of your laptop bag, your handbag or whatever bag you carry around.
This is easy to do, and actually quite cost effective. Since the bulk of the cost of a business card is in the set-up, it's actually very cheap to print a higher quantity. For example the difference between 250 and 500 regular business cards is currently only £1 (yes, that's one pound for twice the number of cards!). So there's no excuse really to make sure you have business cards to hand.